NEW PEZ Dispensers 
---
Batman v. Superman PEZ Dispensers
The long awaited Batman v. Superman: Dawn of Justice premieres March 25, 2016! 
Cast includes:
Ben Affleck as Batman
Amy Adams as Lois Lane
Henry Cavill as Superman
Jesse Eisenberg as Lex Luthor
Jason Momoa as Aquaman
Making her debut theatrical appearance, Wonder Woman will be played by Gal Gadot.

2016 is Wonder Woman's 75thanniversary. To celebrate this event, a new Wonder Woman PEZ dispenser will be introduced.
In addition… Batman and Superman dispensers will be molded to reflect the movie characters. Packaging will also be updated to Batman vs. Superman movie graphics.
Batman vs Superman (3 pack and assortment from PEZ is now available).
Mickey and Friends PEZ Dispensers
The current PEZ Mickey and Friends assortment is a PEZ evergreen.  #1 Character Franchise in the world with $9 Billion in global retail sales.

Mickey Mouse outranks the closest competition in "like-ability" for kids 3-5 and is 2 times more liked among kids 0-3 (by moms).  Minnie is a top favorite character among Girls 3-5.
Minnie embodies a constant reminder to girls, of all ages, to live confidently and express themselves because living with zest never goes out of style.
PEZemoji Dispensers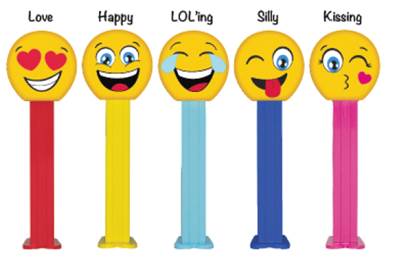 Emojis originated in Japan and since their introduction into everyday communication continues to bring smiles to the faces of all who use them.

The word emoji means "picture letter" in Japanese.
Each picture or emoji shares a special feeling that can best be translated with the visual cue of an emoji!  Share some fun with the PEZ lineup of "PEZemojis!"